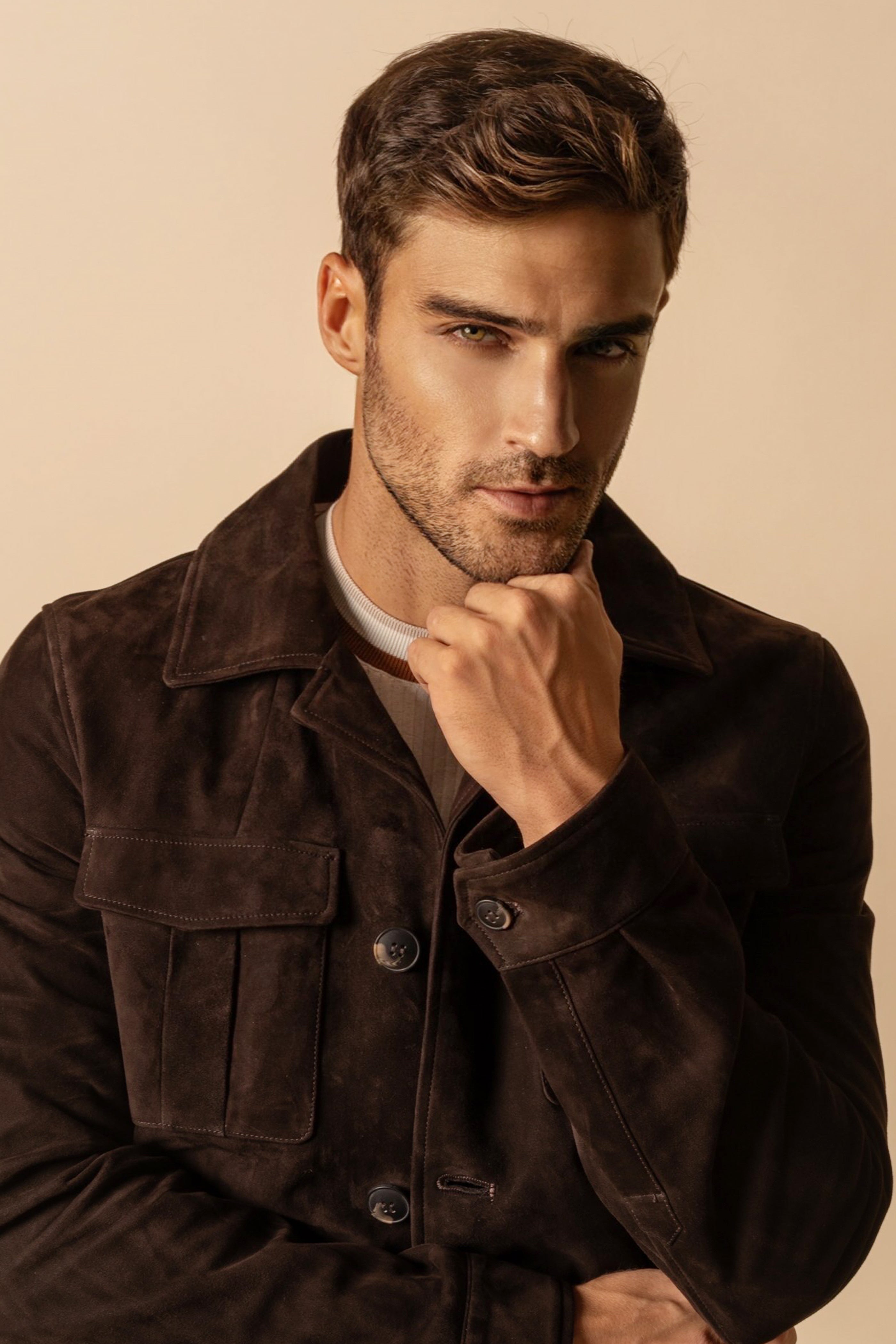 Woodland Suede Coat
SKU: 31279-03
---
 

Introducing the ADAMO Woodland Suede Coat – a harmonious blend of nature-inspired aesthetics and timeless sophistication. This exceptional creation, tailored exclusively for men, is a testament to our commitment to quality and style.

The Mouse color of this coat takes its cues from the serene hues of the woodland, evoking a sense of earthy elegance that is as versatile as it is refined. It's a shade that seamlessly complements any occasion, ensuring you stand out with understated grace.

Crafted with the utmost precision, this coat is a masterpiece in itself. Made from 100% genuine suede leather, it promises not just a sophisticated look but also a plush feel against your skin. The remarkable softness of suede, coupled with its inherent durability, makes this coat a cherished addition to your wardrobe.

The classic button closure enhances the coat's timeless appeal. Fasten it up for a polished look or leave it open to exude casual charm—it's a versatile piece that adapts to your style effortlessly.

The button fastening on the sleeves adds an extra touch of refinement while allowing you to customize the fit and comfort of your coat.

Large flap pockets on the front of the coat offer both style and convenience. They provide ample room for your essentials while maintaining the coat's sleek silhouette.

The ADAMO Woodland Suede Coat is designed to be your trusted companion, whether you're navigating the cityscape or venturing into the great outdoors. Pair it with jeans and boots for an adventurous hike or dress it up with slacks and leather shoes for a sophisticated evening out.

More than just a garment, this coat is an investment in enduring style and craftsmanship. Its timeless design ensures it remains a staple in your wardrobe, transcending seasonal trends.

Rediscover the allure of nature-inspired fashion with the ADAMO Woodland Suede Coat—a true embodiment of elegance that connects you to the beauty of the outdoors. Embrace timeless sophistication today.




Brown

Suede leather

Button closure

High quality craftsmanship



The model in the picture is 1.84 cm / 6.03' ft, size 50 / 31 . The size of the product on the model is 50.



1 in stock
1 in stock
1 in stock
Woodland Suede Coat
Sale price
$1,120
Regular price
Choose options